Planning Will Help Make Your Playground Safer and Last Longer
Advance planning before an installation or renovation is begun will help make your playground safer and also make the investment in time and money more worthwhile. The attached diagram shows the recommended installation for use when utilizing Safetyguard Playground Surfacing Material. It is essential that this procedure be followed closely in order to provide a safe environment for your playground.
Stillwater Enterprises assumes no liability in determining the size of the playground area or the area of the safe zone required between the equipment and the playground border. For more information, we suggest that you consult a local playground installation contractor or refer to a free pamphlet available from the Consumer Product Safety Commission which covers the design and installation requirements for public playground equipment. You can call them at 800-638-2772 or visit their website at www.cpsc.gov. Request Publication #325 "Handbook for Public Playground Safety".
When planning an installation, it is important that you first determine if the wood fiber surfacing material will be installed "below grade", in which case a 12 inch excavated area is needed, or if it will be installed "above grade" and will utilize a Fun Timber Containment System. In either case, a 1% to 2% grade is required to insure proper drainage.
Stillwater Enterprises does not specify the design of any drainage system. The end user is advised to consult with a local landscape designer or site engineer who is familiar with local soil types, rainfall amounts, and site topography. At a minimum, each of these factors must be taken into consideration when designing drainage system for a particular playground site. The attached diagram showing our recommended installation should be considered as a good basis for designing a playground surfacing system.
Also, we strongly recommend using geotextile fabric barrier in your playground installation. It is recommended that layers of fabric be installed both underneath and over the top of the gravel drainage system. This ensures proper separation of the subsurface soil, the drainage gravel and the wood fiber material. By investing this time and effort at the beginning will greatly prolong the life of the wood fiber surfacing material.
Drainage and Winter Weather Conditions - Critical Design Considerations
Wood fiber surfacing material naturally retains some moisture and the fall cushioning is actually improved from the "matting effect" which takes place in the presence of small amounts of moisture. However, poor drainage and associated high moisture content will cause the wood fiber to break down prematurely and the fall cushioning characteristics could diminish more quickly than normal.
A second concern that could arise due to inadequate drainage is the effect that the high moisture content will have on fall cushioning during freezing weather. When saturated wood fiber freezes, the likelihood of injuries from falls can increase dramatically. Proper drainage can help minimize this problem, but care should be taken during winter weather. No one should be allowed to use playground equipment when the surfacing beneath it is frozen.
Routine Maintenance Is Essential
During regular inspections, usually conducted on a weekly basis, special attention should be given to high use areas under swings and at the exit of slides. These areas, as well as the entire play area, should be examined and any uneven areas in the surface of the wood fiber material should be leveled with a rake. It is essential to maintain the proper depth of the surfacing material in order to provide adequate fall protection. A typical playground will require 9" to 12" of material, depending on the height of the equipment being used.
Another maintenance item which should be performed on a regular basis is the removal of any foreign objects from the wood fiber surfacing material. Items such as rocks, glass, litter, and fallen tree branches should immediately be removed from the playground area.
After two or three years of use, it may be necessary to add a layer of wood fiber over existing surfacing material. To calculate the amount of material needed to "top-off" the existing Safetyguard Playground surfacing Material, measure the depth of the existing and also take down the dimensions of the playground area. Call Stillwater Enterprises at 217-844-4444 and we will be glad to help you calculate the amount of material required.
Use Safety Mats in High Use Areas
We recommend that Dynacushion Play Mats be used in high use areas under swings and at the ends of slides. Incorporating these mats in the design of the playground will help limit the amount of material that is displaced in these areas. Not only does this reduce the amount of raking and maintenance required in these areas, it also provides a safer play area because of their protective design.
Installation of safety mats in high use areas must be done correctly in order for them to function properly. Correct installation helps reduce the possibility that the wood fiber will be displaced and the edges of the mats will become exposed. It is recommended that 6" of wood fiber be installed first and then, the mats positioned in the areas where they are needed. The remaining layer of wood fiber can then be installed over the mats. By following this process, the edges of the mats will remain buried in the wood fiber and only the center portion of the mats will become exposed as the equipment is used.
Dynacushion Play Mats are available from Stillwater Enterprises in 1 1/4" or 2" thick dimensions. They measure 48" wide and are 72" long, the perfect size for underneath swings. At the end of slides, a mat 36" wide and 48" long is recommended. By design, a 2" thick Dynacushion mat is engineered to provide the same fall cushioning protection as 6" of wood fiber. If a 2" thick mat is installed over 6" of wood fiber as described above, it is proven to provide the same fall protection as 12" of wood fiber. In theory, the "pits" underneath swings are the single most troublesome maintenance item in most playgrounds. By using playmats, it is possible to virtually eliminate this maintenance item from your employees and still provide excellent fall protection for you children.
WARNING: If you fail to routinely inspect and maintain your playground, the result may be the development of unsafe conditions in the play area. Such neglect may invalidate the limited product warranty and/or lead to unnecessary injury to persons who may use the playground. Stillwater Enterprises, Inc. is not responsible for any injuries or claims that result from the lack of proper installation or maintenance of the playground surfacing material.
Safetyguard Installation Example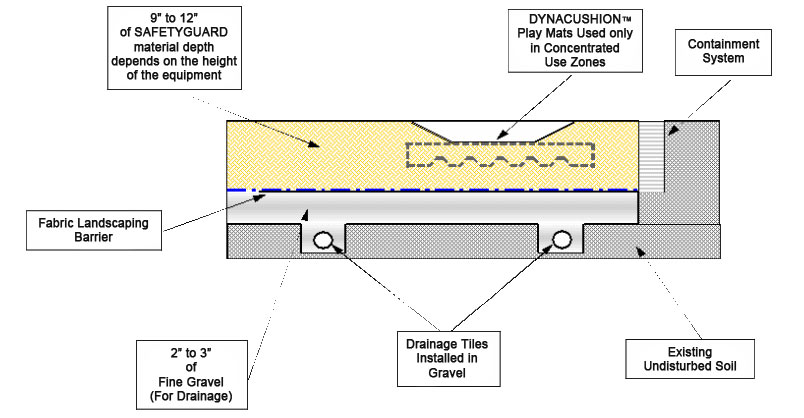 This is an example of a playground surfacing containment system installed "On Grade" with sufficient natural slope on surrounding area for water to flow away without an in-ground piping system.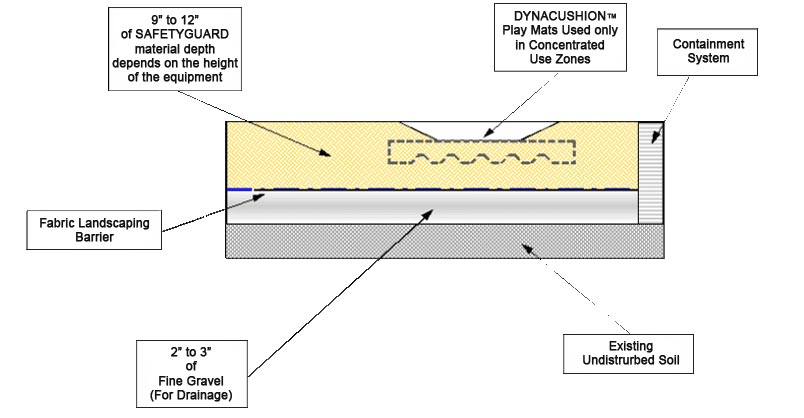 This is an example of a playground surfacing containment system installed "Below Grade" with water being carried away with an in-ground piping system.