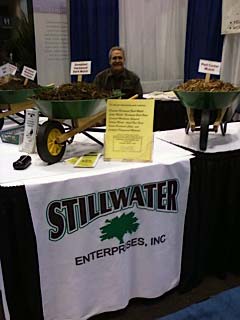 Stillwater Enterprises, Inc. is a family owned business based in Effingham, Illinois. For many years, we have been known as a supplier of high-quality hardwood bark mulch to customers in Illinois and Indiana.
The Company's Product Line Includes:
Premium Hardwood Bark Mulch
Cedar Mulch
Dyed Black Mulch
Dyed Red Mulch
Dyed Brown Mulch
Native Hardwood Chips
Screened Mushroom Compost
TRIO Mix
SAFETYGUARD Playground Surfacing Material
Our Focus
Our primary focus is the production and distribution of landscape and nursery materials. Our largest volume product is premium hardwood bark mulch. However, due to the national emphasis placed on playground safety, the production of SAFETYGUARD Playground Surfacing Material is becoming a larger part of our company's sales. We pride ourselves in our responsive service and in the high quality products we deliver. We strive to be consistent in both service and quality, because we know that in today's world, being reliable is the key to retaining loyal customers.