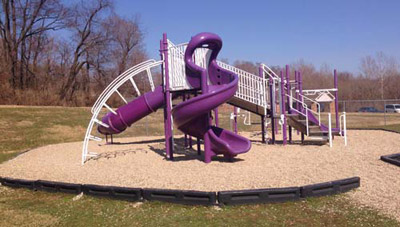 Safetyguard is a certified, engineered product made from pure wood fiber and is specifically designed for use as an effective loose-fill playground surfacing material. The base material is a natural by-product of most modern sawmill operations. Only virgin, native hardwood is used in the creation of Safetyguard. It contains no bark, soil, leaves, twigs, or metal scrap. It is naturally resistant to decomposition and contains no chemical preservatives.
Benefits of Safetyguard Include:
Ground to create the mix of particle sizes needed for desired cushioning effect
No dangerous sharp "spikes" or "spears"
Uniform size and shape of flakes with no sharp points
Free of foreign material, meaning it contains no scrap metal or undesirable items
Local, virgin wood chips are used to eliminate chemical contamination
Tested and Certified
Our product has been tested and certified by an independent testing laboratory in accordance with the procedures as outlined in ASTM F-1292. This test certifies the fall cushioning characteristics of the material by measurement of "G" forces on an object dropped onto the surfacing material.
Safetyguard is also tested and is certified according to ASTM F-1951 and meets the requirements for accessibility as in the guidelines currently proposed under the Americans with Disabilities Act (ADA).
Products to Complete a Playground Installation
The following products are also available through Stillwater Enterprises, Inc. to help you complete your playground installation.